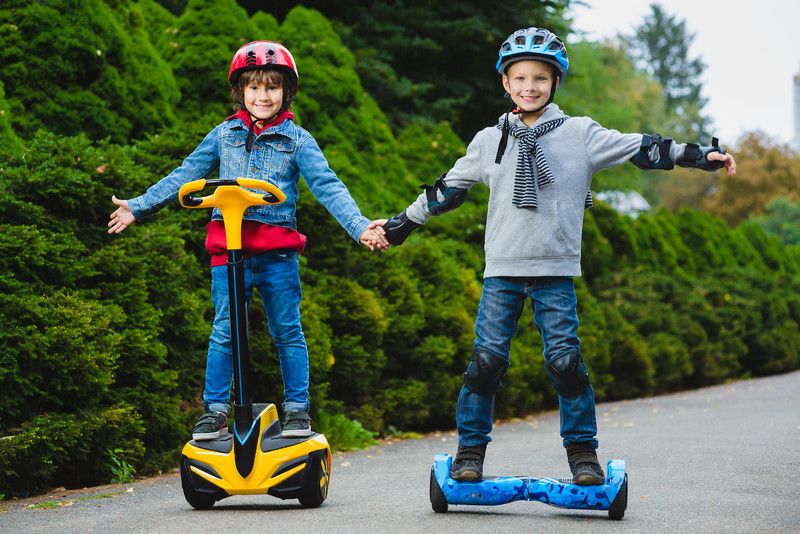 Ever since Marty McFly went back to the future and turned a child's hoverscooter into a hoverboard and then used it to outwit the evil Biff Tannen, kids have longed for the day when this fantasy would become a reality.
If we are being completely honest about it, the kids who want a "real" hoverboard that floats in the air and is propelled by the user waving their leg in the air are still waiting, and realistically may never get to see one made that works properly.
Yes, there are some ambitious mad scientists who continue to try to develop "real" hoverboards, but I don't see them hitting the shelves in my lifetime.
For those kids who are a bit less pedantic about the meaning of the word "hoverboard", the wait is over and they have arrived!
But, which are the best hoverboards for kids?
The First Kids Hoverboards
---
Hoverboards have become one the the most sought after kids ride on toys since they arrived on the scene a couple of years ago.
The problem was that just as they were invented and manufactured for the first time, the marketplace became swamped with low price hoverboards that were of very dubious quality. Most, if not all, were made of the same cheap and nasty components and they all came with the same dangerous defects.
You can't have failed to read the horror stories of hoverboards overheating, exploding or just going up in smoke. The streets were filled with the anguished cries of frustrated kids who, if they were lucky, silly stood on a motionless hoverboard that wouldn't do anything and, if they were unlucky ended up in the Emergency Room.

Yes, I know that some of the "exploding hoverboard" videos on YouTube look a but fake, but that doesn't mean that there wasn't a genuine problem with cheap hoverboards overheating.
The problem was that consumers failed to appreciate that you can't make a good hoverboard for $50 and so it was hardly surprising that those who thought that you could were disappointed by the final outcome.
The Arrival of Good Quality Hoverboards
---
Fortunately, some more respectable companies entered the market and began to make hoverboards for kids that actually worked and, better still, were unlikely to burst into flames while being used.
The Razor company for example have been making electric scooters, bikes, and buggies for many years and they are generally pretty reliable. Yes, they are more expensive but then again you get what you pay for.
The industry also devised a Quality Mark Certification called UL2272 to help kids, and their parents, to find hoverboards that were manufactured with high quality parts and which had been rigorously tested before being released for sale.
So, the first thing that you should do when considering whether or not to buy a particular hoverboard for your child is to check that it has been certified as being compliant with UL2272.
The UL2272 Certification is based on a comprehensive testing regime that includes:
Overcharge Test
Short Circuit Test
Over discharge Test
Temperature Test (Determines the failure temperature of a product.)
Imbalanced Charging Test
Dielectric Voltage Test
Isolation Resistance Test (Testing Isolation Transformer.)
Vibration Test
Shock Test
Crash Test
Drop Test
Mold Stress Test
Water Exposer Test
Thermal Cycling Test (Testing the effects of extreme differential temperature change.)
Label Performance Test (Comparing products against other leading brands.)
Strain Relief Tests
Motor Overload Test
Motor Locked Rotor
20mm End Product Flame (Test that determines flame resistance.)
Different Types of Kids Hoverboards
---
Kids of different age groups have different requirements when looking for a hoverboard to use safely.
What is suitable for a 15 year old kid is not necessarily going to be suitable for an 8 year old kid.
I have divided my best hoverboards for kids guide into 3 separate age groups to help you find the guidance that is suitable for your child.
Before I look at the best hoverboards for kids in those specific age categories, please be sure to buy a safety helmet for your child. If you wouldn't let you child use a bike or scooter without a helmet why let them use  a hoverboard without one?
In many respects there is a greater need for a safety helmet whilst using an electric hoverboard because your child is definitely going to fall of at some stage and, when they do, it may well be backwards. For $20 you can buy a decent helmet.
1. Hoverboards for Kids Under 8 Years of Age
I am not aware of any hoverboards that are rated as suitable for use by kids aged under 8 years of age.
I would be a little sceptical of any hoverboard manufacturer that claimed their product was universally suitable for kids of that age group because of the way in which hoverboards are controlled, the fact that they usually have a minimum weight requirement in order for them to be capable of being controlled properly, and the fact that they are dangerous if not used by someone that is sufficiently mature to recognise the risks.
Having said that, age is not always a precise indication of whether or not someone is capable of using a certain product. Most good kids hoverboards are rated as suitable for use from age 8 and upwards or age 12 and upwards. These are recommendations only and ultimately it is a matter for you to decide whether or not your child is physically and mentally ready for a hoverboard.
Okay, so here's a 4-year old child using a hoverboard …

There may well be some 7 year olds that are more than capable of using a hoverboard and, on the other hand, there will be some 9 year old that are not.
2. Hoverboards for Kids Aged 8 and Upwards
Until quite recently, most hoverboards were only suitable for use by teenagers.
One of the main problems for younger kids was that the balancing technology on the early hoverboards was pretty basic and this made it difficult to mount and dismount safely and brought with it an increased risk of falling off.
The self-balancing technology has now moved on and the best kids hoverboards are now able to keep their decks in a horizontal position so that mounting and dismounting is so much easier.
Another big advantage to this self-balancing technology is that, because the deck is less likely to roll forward or backwards and hit the sidewalk, you are less likely to damage the machine itself.
In this video you can see the new self-balancing technology in action as the older Hovertrax 1.0 is compared side-by-side with the newer Hovertrax 2.0 …

There are only 2 hoverboards for kids aged 8 and upwards that I would personally recommend. Well, 3 hoverboards if you count the Epikgo Classic and Sport separately, but you know what I mean.
The Razor Hovertrax 2.0
The Razor Hovertrax 2.0 is suitable for use from 8 years and upwards and comes with the self-balancing feature that is shown in the video above.
It also has 2 modes of use. You can start off in training mode (which has a reduced speed) until you have learned the basics, before switching to normal mode to unleash the full potential of the hoverboard.
Its other key features are:
UL2272 Compliant
Maximum Speed of 8 mph
Maximum rider weight of 220 lbs
Run time of 60 minutes
Re-charges in 2 hours
Check latest price of the Hovertrax 2.0.
The Epikgo Classic / Sport
The Epikgo Classic is shown above, with it's off road tires.
The tires on the Sport version are more slick than those on the Classic but, apart from that they are the same in pretty much every other respect.
They are both suitable for use from 8 years and upwards and have a range of 10 miles thanks to their 400 Watt dual motors.
They are also both true self-balancing in the same way that the Hovertrax 2.0 is.
Other key features include:
UL2272 Compliant
Top Speed of 10 mph
Run time of 60 minutes
Maximum rider weight of 265 lbs
8.5 inch all-terrain tires and wheels
Re-charges in 1-2 hours
Since some of the Epikgo hoverboards come with large off-road tires, they are more flexible that the Hovertrax 2.0 in terms of which terrain you can use them on. So, if you want to take your hoverboard off-road, the Epikgo models are going to be a better option.
They also have a higher top speed and can be safely used by heavier riders.
Here is a more detailed explanation of the Epikgo's features ..

The Epikgo Classic and Sport hoverboards get fantastic user reviews.
They are not cheap though.
The full retail price of an Epikgo Classic or Epikgo Sport hoverboard is $799.99, but they are often available online at big discounts.
Having said that, even with these online discounts, the Epikgo hoverboards are still going to be significantly more expensive that the Hovertrax 2.0.
Check the latest prices of Epikgo Hoverboards.
3. Hoverboards for Kids Aged 12 and Upwards
The Razor Hovertrax 2.0
The Razor Hovertrax 2.0 is a perfectly good hoverboard for older kids, and indeed adults.
It is not the fastest on the market but it is reliable and reasonably easy to control and do tricks on.
Check latest price of the Hovertrax 2.0.
The Epikgo Sport+ / Premier
There is no reason why a child aged 12 years + couldn't use the Epikgo Classic or Sport models, but the Sport+ and Premier hoverboards offer a little more speed and excitement for the older child and, come with some added extras.
The main improvements on the Epikgo Sport and Premier hoverboards over and above the Classic and Sport versions are that have maximum speeds of 12 mph instead of 10 mph, and can be used on a steeper incline of 30 degrees instead of 15 degrees.
In addition, they come with bluetooth enabled speakers so that you can play your favorite music whilst riding around.
Again, the only difference between the Sport+ and the Premier versions is that the Sport+ comes with more slick tires.
The full retail price of the Sport+ and Premier is a whopping $999.99, but again you can find much better prices online.
Check latest price of the Epikgo Sport+ and Premier.
Kids Hoverboards to Avoid
---
Aside from the obvious need to avoid buying a cheap and nasty hoverboard that does not come with the UL2272 safety certification, there are some more expensive machines that I personally would not consider buying for my kids.
One such hoverboard in the Swagtron T3.
In short, it gets terrible user reviews that suggest that there is a quality control problem with these hoverboards. If you are looking to spend $400 or more on a product, you are entitled to expect that it will work reliably and that, if it breaks, the company's customer support will be good.
If those who have reviewed the Swagtron T3 are to be believed, you will get none of these things.
You can read my review of the Swagtron T3 hoverboard here.
Leave a Comment
---
I'd love to hear from you if you have anything to contribute to the question of which are the best hoverboards for kids. If you have any opinions, please leave a comment in the box below.