BEST ELECTRIC CARS FOR KIDS 2018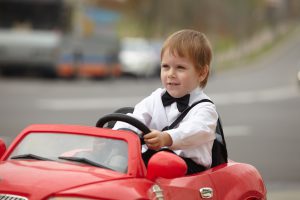 Most kids loves cars, bikes, trains and pretty much anything else that they can see moving at speed and, better still, can hop on themselves for a ride. Pedal and push cars are fun, but nothing beats the thrill of driving a kids battery-powered electric car. Whether your child is 2 years old or 8 years old, there is an electric car that is right for them.
There are quite a lot of kids electric cars to choose from and there are suitable models for many different age ranges, but not all of them are high quality and many of them get bad user reviews. If you are spending your hard-earned cash on an electric car for your child, you want to make sure that it is going to be safe, fun, and sturdy!
So, which are the best electric cars for kids in 2018?
#1 –
Fisher-Price Power Wheels Dune Racer
The Fisher Price Power Wheels Dune Racer is a really slick looking car that can accommodate up to 2 kids so long as their combined weight does not exceed the 130 lbs limit. I am never a fan of strict age limits for these products since kids mature physically and emotionally at very different rates. Realistically, the Dune Racer is probably for kids in the 3 to 6 age range. A child of 7 or 8 could probably fit in it, but the maximum speed of 5 mph is likely to be a little too slow for them to get enough enjoyment out of it.
Boasting a monster double traction system, it has been built for the toughest of conditions and can be ridden on nearly any surface – wet grass, hard surfaces and all rough terrains. With its 2 speed settings, your child can limit their speed to 2.5 mph whilst getting used to the vehicle. before accelerating to the top speed of 5 mph as they get to grips with the controls. It also does 2.5 mph in reverse.
The 12-Volt Dune Racer from Power Wheels has its entire framework made from steel. With its large bucket seats, there's enough room for both your kids to ride in it. It also boasts a power lock brake system, a storage compartment under the hood for toys or other items, plus seatbelts to improve their safety.
The power lock brake system is a neat safety feature for younger kids because it automatically activates the brakes when they take their foot off the accelerator pedal. So, they don't even need to worry about learning to use a brake pedal.
The vehicle comes supplied with a 12V battery and charger.
Here is a video of the Power Wheels Dune Racer in action …
#2 –
Peg Perego John Deere Ground Force Tractor with Trailer

The John Deere Ground Force Tractor from Peg Perego is an ideal vehicle for young tractor lovers. Styled to resemble a tractor, it is fully equipped with a trailer to boot.
The Ground Force Tractor is powered by a 12-Volt battery. Like the Dune Racer above, it offers two top speeds – 2.5 mph for beginners and 4.5 mph that can be unlocked for more confident young drivers. It also has a 2.5 mph reverse gear and, just like the Dune Racer, it uses an automatic brake rather than having a separate brake pedal.
The 12v battery and charger are included with the tractor.
This is a well-built tractor for kids, with easy to master controls and super traction. Thanks to its large tractor wheels, your child would have no problem handling any terrain. The trailer extension will allow your kids haul stuff around just like a real life farmer.
There are some nice extra features, including a built-in FM radio and adjustable seats with flip-up armrests.
There recommended age range is about 2 to 7 years old.
Here is a video of the Peg Perego John Deere Ground Force tractor in action …
If you like the look of the Peg Perego Tractor, but would prefer an XUV style vehicle, you can read my full review of the Peg Perego John Deere Gator XUV here.
#3 –
Kid Trax Dodge Viper SRT 12V Ride-on Car

If you wish to get a solid ride for your kid that resembles a real car, then the Trax Dodge Viper is for you. This car has been designed to resemble a Dodge Viper and, with the inclusion of engine sound simulation, it will give your kid a feel of realistic driving.
Powered by a 12-volt battery, its battery charger is made to resemble a gas tank. Simply open the tank cover and connect the charger to increase battery juice, for an even more realistic feel.
The Dodge Viper SRT by Trax features LED running lights. The additional rubber traction for the wheels makes it quieter when riding on road while giving it a firmer grip on grass and dirt.
It has a top speed of 5 mph and boasts enough torque to haul as much as 150 pounds at top speed. Your kid will enjoy taking their friends for a ride in this 2-seater car and can catch some fun by listening to music hits on an MP3 player or the FM Radio. Tough and rugged, its controls are easy to master and turning is smooth.
Here it is in action …
#4 –
Best Choice Products Kids 12V Ride on Car

This electric car is specifically designed to give your kid a realistic feel of driving a sports car. Its striking features make it hard to miss and it is both sleek on the outside and in. Its internal features simulate a real sports car with its integrated gear switch, realistic engine sounds and horn. It also features two 12-volt motors for 2 speed options – 2 mph and 4 mph, depending on your child's physical ability. There is a reverse gear and working headlights too.
A power lock system and included adjustable seatbelts ensure your kid is safe behind those wheels. Your kid can sit back and relax as music blares from the speakers either through the auxiliary input or from a list of preset songs.
One of the differences between this product and some of the other is that it can controlled remotely by a parent or older sibling. Get in on the act and seize controls from your young one (mostly for those who cannot reach the accelerator), directing them as you please using the remote control system.
Perhaps its major drawback is its limited weight limit of 66 pounds. Having said that, this really is a car for kids aged about 2 to 4 rather than older kids.
Just watch this video of the car in action …
#5 –
Razor Ground Force Electric Go-Kart
Finally, we have an option for older kids. The recommended minimum age limit for the Razor Ground Force Electric G0-Kart is 8 years of age, but some kids will be able to drive one perfectly safely at a slightly young age than that.
The Razor Ground Force's most notable features are:
Top Speed of 12 mph
Variable Speed Throttle (rather than just go/stop)
Long Use Between Charges (about 45 minutes/7-8 miles)
Short Battery Charging Time
Durable Steel Frame
Although it's not entirely silent, the motor on the Ground Force Go Kart is pretty quiet – something that your neighbours will be relieved about.
At about 45 minutes per session, the Ground Force Go Kart has a very respectable length of use between charges. In terms of distance travelled, this is long enough to drive continuously for about 7-8 miles before the battery needs to be re-charged.
Many other types of electric ride toy come with batteries that take about 8-10 hours to re-charge between uses.
Not only does the Ground Force Go Kart go for 45 minutes between charges, but when you do need to recharge the batteries it only takes about 4-6 hours. This means that your child can have a go in the morning, then put the battery onto charge, have lunch, and then get back out onto the Go Kart for an afternoon session too. Having said that, you might want to invest in a spare battery if your child wants to be able to ride for up to 90 minutes at a time.
The best way to find out whether or not it is the right toy for your child is to see it in action.
So here goes:
Get in Touch
If you have any questions or comments about my Best Electric Cars For Kids 2018 article, please put them in the box below.